Semester One Principal Message
This semester at Strathmore, our students have exemplified our school values in remarkable ways. They have shown unwavering
Perseverance
in their pursuit of knowledge, fostering an atmosphere of
Respect
among their peers and teachers. Their commitment to
Integrity
has been evident through their honest and dedicated approach to learning. Additionally, they have embraced the richness of
Diversity
within our school community, celebrating the unique qualities that make us who we are. Finally, their pursuit of
Excellence
has shone brightly as they have completed their learning tasks to the best of their ability. With all these achievements, we have much to celebrate at Strathmore.
The school concert was, as we have come to expect, outstanding. A first-time audience member who attended the concert on Thursday evening was thoroughly impressed by both the variety and comprehensiveness of the program. On behalf of the College, I would like to congratulate Luke Steward (Head of Music), our classroom Music teachers and the Instrumental Music teachers for the brilliant Mid-Year Concert.
Parent engagement in our school - importance of Compass
Compass is our primary means of communication and is important because all vital information is shared with parents via Compass. This includes student reports, learning task updates, attendance information, excursion approvals and other information updates. Parents are able to login to Compass here -
https://strathmore-vic.compass.education/
There is a help page available if you are having difficulty logging on -
https://ict.strathmore.vic.edu.au/compass-password-help.html
​
If you have misplaced your login details or are having difficulty, please contact the College via email:
strathmore.sc@education.vic.gov.au
​
Communicating with student Teams in Semester 2
All communication with the school should be directed to the Team Coordinator in the first instance. The central role of Team Leaders and Coordinators is to work with students and families to ensure students are happy and successful at school. Their email addresses are currently included on the school website. It is important to note that their emails are only monitored during term time. Teams are led and overseen by a Leading Teacher Team Leader with two Coordinators in the Year 7-10 teams. Senior School has a Leading Teacher responsible for Year 11 and another for Year 12 with one Coordinator for each team. As a result of some changes in the leadership structure, there are some changes to team leader and Student coordination positions for semester two.
https://strathmore.vic.edu.au/student-teams/student-team-overview/
Junior School Years 7 - 10
Team Leaders Coordinators​
Argyll
Nick Redrup Claire Kennett & Fotini Tsiatis
Burnet
Matthew Roberts Teagan Fraser & Erica Trahar
Chisholm
Marisa Pezzimenti Matthew Landy & Jane Milton
Dunlop
Alex Smith Gayle Shaw, Orania Theoharidis & James Borrell
Napier
Hayley May Kim Lim & Leon Crook
​Stirling
Yolanda De Santis Dion Hill & Bill Delaney
Senior School - Years 11 & 12
Team Leader Year 11 Andrew Beavis
Team Leader Year 12 Gokhan Karahan
​​
Argyll Coordinator Ned Daniher
Burnet Coordinator ​​Ben Hirons
Chisholm Coordinator ​​Antonella Alampi
Dunlop Coordinator ​James Salmon
​Napier Coordinator Amelia Kanappa
​Stirling Coordinator ​Kenna Bradley
Jenny Sali and Libby Ainalis are responsible for organisational and administrative matters within the Senior School.
​
I congratulate students, families and staff for their continued effort, enthusiasm and support and wish all a happy, safe, and invigorating break.
Jillian English
Principal
School Council June Meeting Report
School Operations
I reported to Council that I am proud that the school I lead has been able to continue our teaching program with few interruptions at this challenging time. Despite the shortage of teachers that has been widely reported in the media, our school has been able to continue to attract and maintain a full complement of teachers.
We have also been able to continue with our extra-curricular activities such as our extensive sporting program, drama and music performances, camps, Year 12 formal, and Year 10 Work Experience. Our committed staff has ensured that we have been able to maintain these programs without interruption.
Victorian Certificate of Education (VCE) - Vocational Major
In 2023, Strathmore Secondary College provided the opportunity for Year 11 students to enrol in the VCE - Vocational Major (VCE VM). The program has started strongly, and our students have all been placed in Structured Workplace Learning sites and attended VET at Northern College of the Arts and Technology (NCAT). On Tuesday 6 June, we were approached by the Department of Education's Media Unit to speak to Channel 9 about our strong student retention data and pathways options for students with different strengths, which allows us to cater to their different learning styles exemplified by our VCE VM program. One of our students, Zander Lekkas and VCE VM Coordinator Kate Hutchison spoke to Channel 9 about the success of the program.
In 2024, we are expanding the VCE VM program. The first cohort of Year 12 students will be experiencing Units 3 and 4 of VCE VM, and many of them will be undertaking School-Based Apprenticeships (SBATs). This enables them to continue their VET and begin an apprenticeship whilst continuing their studies at Strathmore towards their VCE. In addition, expressions of interest have been received from prospective Year 11 students to enter the program in 2024. We are looking to expand our VET offerings to meet our students' needs.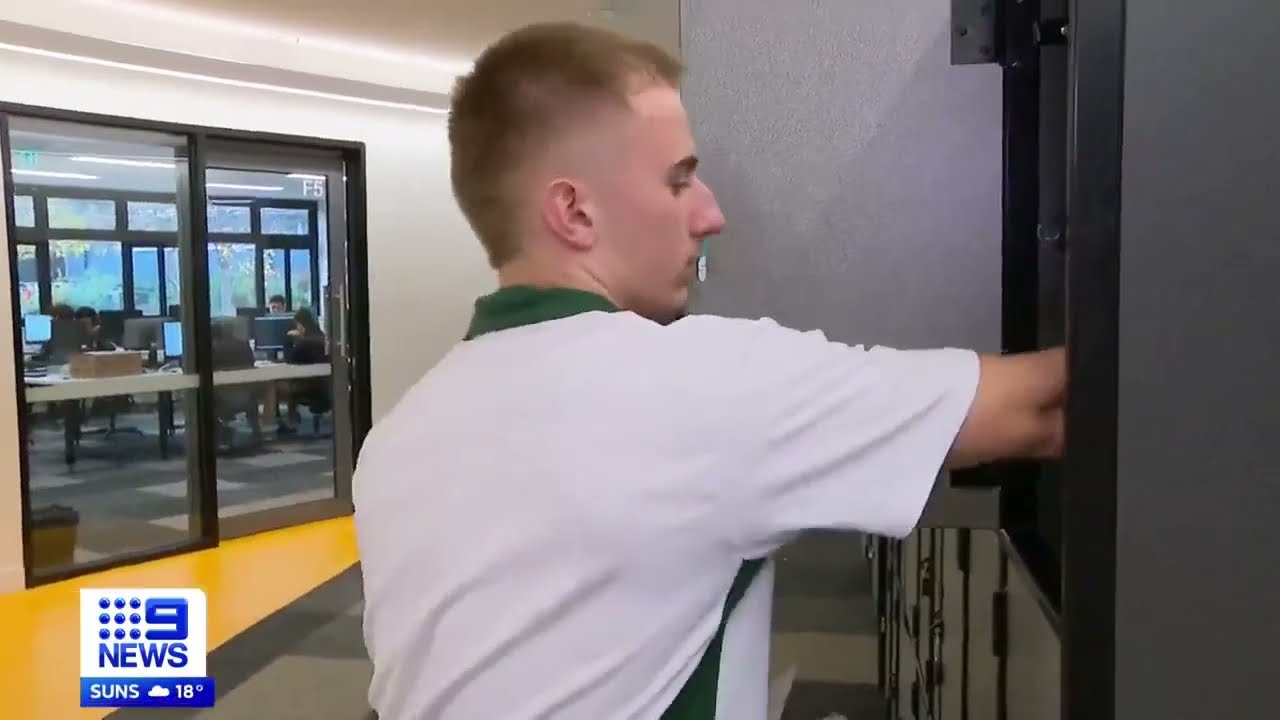 Professional Practice Day for Teachers ​Term 3
​Wednesday 19 July
A common Professional Practice Day will be held on 19 July 2023. The purpose of the day is to allow teachers to meet to plan and discuss curriculum and assessment. On Wednesday 19 July students will not be required to attend school.
Year 7 Enrolments 2024
Demand for places in Year 7 is extremely strong, which has been the case for many years. Summary sheets from primary schools were received on 23 May. We will shortly begin the process of forming classes for next year.
Jillian English
Principal
Western Metro Regional Cross Country
The Strathmore cross country team was victorious at the Western region championships this week. In very cold, wet and difficult conditions our athletes demonstrated the self-motivation and perseverance necessary to put in some outstanding performances.
The 15 girls and 15 boys won their age groups as a team and the 14 girls came second – this shows the depth of our running talent at Strathmore as the teams category takes into account the placings of the top 4 team members from each school.
The most outstanding performances of the day go to our medal winners. Congratulations to Jesse Lumby and Gillie Lumby on winning gold in their respective races. Congratulations to Hollie Capuano, Sahara Ball and Ty Davis on winning silver in their races.
Results
13 Girls Ella Brown 22nd
13 Boys Alexander Carrol 7th, Aidan Lowe 18th, Nevin Francis 51st, Harry Keenan 65th,
14 Girls Hollie Capuano 2nd, Holly Clough 12th, Sofie Baird 37th, Amelia Hanks 41st, Dot Norbury 49th
14 Sam Price 41st, William Lowe 63rd
12-14 MC Boys Gillie Lumby 1st
15 Girls Stephanie Ripplinger 6th, Estelle Sacco 9th, Mia Monaghan 21st, Maisey Gasper injured, Holly Kalimeris 28th, Eilan Howland 27th
15 Boys Jessie Lumby 1st, Aiden Davis 7th, Zac Mozjerin 14th, Aydin Gazi 37th, Aki Beaumont 47th
16 Girls Sahara Ball 2nd
16 Boys Archie Cottom10th, Oliver Moxon 5th
17-20 Boys Ty Davis 2nd, Dylan Blazques 35th
16 of our students have qualified for the State championship to be held next term.
Coach Angella Davis
Celebrating the end of Semester 1 in Design and Technology by showcasing a few final products students have been working on.
Work featured here includes products from Year 9 Design and Technology (wood), where students explored the concept of small box storage using traditional techniques and complemented this with a laser cut lid, Year 9 3D Printed Design where students used their 3D modelling skills to product Memphis inspired clocks, Year 10 Design and Technology (resistant materials) products from the 'Illumination' unit where students explored lighting and the elements and principles of design and Year 11 Textiles solutions to the sustainable redesign unit.
International Student Homestay
The International Student Program has been running at Strathmore Secondary College for over 20 years. Students are enrolled from Years 10 - 12, ranging from 15 to 18 years of age.
We provide homestay to these students while they are enrolled at the school. Length of stay can vary from one to three years. Study Abroad students enrol at Strathmore Secondary College for 3 to 12 months. As of January 2023, students pay $320 per week for accommodation and 3 meals a day. This money does not have to be declared on a tax return as it is considered "reimbursement" not income.
We are looking for families that can provide a safe, comfortable and caring environment whilst the students are studying at Strathmore.
If you are interested in becoming a Homestay family please contact Jan Maas, Homestay Coordinator, 0414 863 047 or Cathy Di Battista, International Student Manager, 0417 301 835 to discuss further.
Year 12 Outdoor & Environmental Studies
This week our Year 12 OES students embarked on a last hurrah of camp down to the Gippsland region of Nayook for a few nights.
While the weather reports in the lead up to camp were light on in terms of snowfall, we were still full of hope as we boarded the bus Monday morning loaded up with thermals, fleeces and fluffy socks – plus a token toboggan along for the ride! We were in luck with 25cm of fresh snow falling in 24 hours and we were treated to soft, white powder snow as we headed up to Mt Baw Baw on Tuesday for the day. The students learnt how to cross country ski, got to explore a few trails and some downhill sliding as well as looking at potential threats to the region and understand how different groups relate to the alpine environment.
We were also lucky enough to perform some testing in different environments, hear from some guest speakers about land management and learn about green building design in a camp environment.
It was a great experience for all the students and we'd also like to thank Leon Crook for giving up his time to accompany us!
Year 7 & 8 Girls Football
I am delighted to share some exciting news about our Strathmore Secondary College Year 7/8 Junior Girls AFL team.
They have had an outstanding performance so far, winning at the Moonee Valley and Western Metro Region and now progressing to the State Quarter and Semi Finals in Term 3. This is a remarkable achievement, and I want to commend each and every player for their hard work and dedication.
Below is a summary of the Western Metro round:
Game 1
: Strathmore Secondary College vs. Taylor's Lakes Secondary College. In a dominant performance, our team emerged victorious with a remarkable score of 84-0. The goal kickers were Olivia Goldstein (2), Myah Hesketh (2), Ella Brown (2), Sophia Laskaris (2), Jazz Lee (1), Andie Torcasio (1), Willow Ciantar (1), and Olivia Ziogas (1). It was a fantastic start to the day, showcasing the team's skills and determination.
Game 2
: Strathmore Secondary College vs. Maribyrnong College. Our girls faced a tough challenge against Maribyrnong College, a renowned sports school. However, through teamwork and unwavering determination, they came away with a 7-0 win. Holly Clough saved the day with her crucial goal, showing the team's resilience.
Game 3
: Strathmore Secondary College vs. Creekside College. Our team continued their winning streak, defeating Creekside College with an impressive score of 92-0. The goal kickers were Sadie Cottom (6), Ella Mozjerin (3), Olivia Goldstein (2), Zoe Steer (2), and Myah Hesketh (3). This victory demonstrated the team's exceptional skills and ability to work together making it through to the final.
Final
: Strathmore Secondary College vs. Western Heights College. In the highly anticipated final, our girls faced another football academy school, Western Heights College. The game started off closely contested, but our team showed great determination. Holly Clough once again played a crucial role, scoring a goal in the first half and Sadie Cottom in the second half. In the end, Strathmore were victorious with a final score of 16-2.
I would like to acknowledge the outstanding efforts of the following players who were recognized as the best on the day: Holly Clough, Hollie Capuano, Daniela Curtis, Zoe Steer, Olivia Goldstein, Jazz Lee, Sadie Cottom, and Myah Hesketh. A big congratulations also to our captain Daniela Curtis on her leadership and ability to encourage the team.
I would also like to thank Mr. Gourley for coaching the team in the first round and to Mr. Hill for his assistance on the day.
To all the players, congratulations on an exceptional day and for making it through to the state level. Your hard work, dedication, and teamwork have paid off, and I am incredibly proud of each and every one of you.
Let's celebrate this achievement as a school community and continue to support our talented athletes.
Miss Rigden
Year 12 Food Studies students have been busy in the kitchen this semester producing meals reflective of the Australian Guide to Healthy Eating, which includes some 'only sometimes and in small amounts' foods.
Congratulations to all the students of the Arts community on successfully completing another wonderful semester! Your dedication, creativity, and hard work has truly paid off. We are in awe of the talent and passion displayed in the artworks produced.
You have pushed boundaries, explored new techniques, and expressed yourselves through your art in remarkable ways. Your commitment to the arts is commendable, and we are proud to have such talented individuals as part of our community.
Keep pursuing your artistic dreams! Well Done!
A huge thank you and congratulations to the Art department staff, your passion to teach is inspiring!
Nicholas Mastrippolito